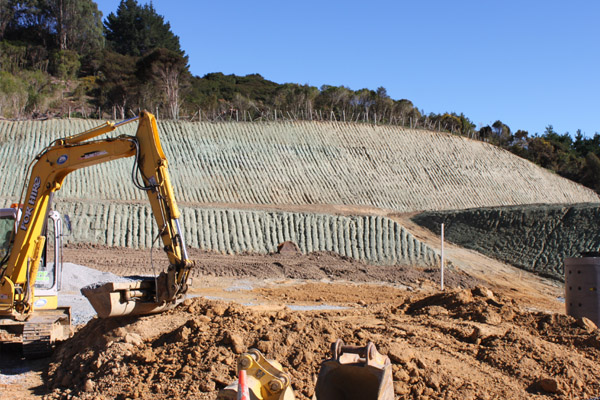 New Subdivisions and Housing Developments
Hydroseeding is a planting process that involves the preparation of a liquid medium that combines seed and a carrier. This carrier is usually wood or paper fibre products with water. This is then mixed in a hydroseeding machine with mechanical agitation and recirculation and applied in liquid form to the seeding area. It is used to quickly revegetate large and inaccessible areas and is suitable for large restoration and infrastructure projects.


Seed on Earth Wellington has exclusive access to leading hydroseeding products which, when combined with our specialist expertise, ensures our clients receive the best possible solution. Seed on Earth Wellington are advocates of the 'hydromulching' technique, which has a number of advantages over standard hydroseeding and conventional seeding methods. The mixture is sometimes referred to as 'slurry' and provides a suitable micro-climate for the seed. This helps it achieve quicker germination, accelerated growth and increased establishment success compared to standard methods. Boosting germination and establishment is the primary goal of hydromulching, and to achieve this the slurry consists of a high concentration of specialist inert organic fibres, tackifiers, biostimulants and fertilisers. A proven track record of success has caused hydromulching to become the gold standard for new subdivisions and developments.


Of all the application techniques available on the current market, hydromulching achieves the most uniform distribution of each seed type. Hydromulching ensures the seed is locked into close contact with the soil or substrate and is, therefore, less likely to be washed away by heavy rainfall or affected by changes in the climate. This technique is also very versatile. Seed mixtures can include most species, including tree and shrub seeds. That being said, a variety of seeds can be sown with this method, from wildflower and pasture seeding to sports grounds and erosion control mixtures.


Hydroseeding UK works with the client in mind. We can create site-specific specifications to provide a practical solution for architects, designers and a variety of clients across a range of industries. We also undertake site surveys and soil sampling, providing clients with a full range of analysis to help achieve quick and accurate results.